New ASA motors
We are pleased to announce that as of 26 June 2017, the Portos company is introducing SOMFY's new ASA series overload drives.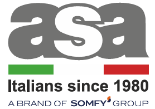 Motors are available in both wired and wireless versions with "PLUG & PLAY" function.
Advantages of ASA electric drives:
Simple installation - no need to configure end positions
Increased lifetime of the shutters - owing to the mechanism of obstacle and icing detection
High safety level - obtained owing to the use of secure radio communication (ROLLING CODE 433.42 MHz)
Automatic Work - automatic correction of end positions
Even More Safety - owing to the use of rigid blocking brackets preventing lifting of the shutter curtain

Price offer for motors refers to the purchase of the finished product. The price of the motors includes blocking brackets which are necessary for the proper functioning of the drives.
The motors are covered by a 5-year warranty whereas the control system is covered by a 2-year warranty system.
See also